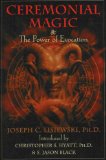 Ceremonial Magic & The Power of Evocation: A System of Personal Power, by Joseph C. Lisiewski
New Falcon Press, 204 pp.
This books is a paradox in that it is both an excellent reference book and tome and at the same time illustrates what happens when a magician becomes inflexible. Lisiewski makes some excellent points about the new age movement of magic and the problems that can occur if you only visualization. Also his point about being as faithful as possible to the grimoires you work with is well worth noting in terms of the build-up of magic and belief that can make an evocation successful, or not as the case may be.
Read More