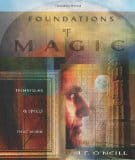 Foundations of Magic: Techniques and Spells That Work, by J F O'Neill
Llewellyn Worldwide, 0738707430, 253 pp. (incl. appendices and index), 2005
Reviewed from an uncorrected proof
Foundations of Magic is presented as an introductory course to non-denominational magic. It has been written with the absolute beginner in mind, even, or perhaps especially, the sceptical beginner. O'Neill's goal is to teach the reader what he regards as the basic skills required for successful magical workings and provide a mini-grimoire of spells that the student can undertake for their own benefit and to demonstrate that magic does in fact work.
The book is organized into two parts. Part I comprises three chapters, covering the definition and description of Magic, the Psychology of Magic, and lastly, the actual process of casting spells, including a practise spell. Continue reading →