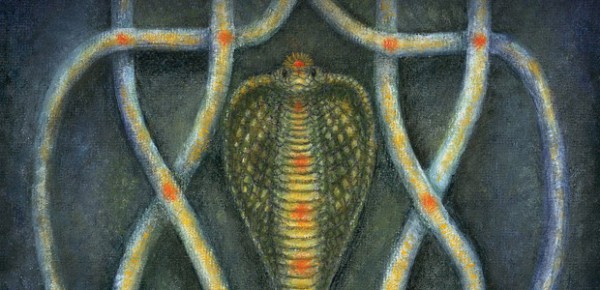 Naga Magick: The Wisdom of the Serpent Lords, by Denny Sargent
Original Falcon Press, 978-1-935150-59-6, 216 pp. (incl. glossary, bibliography, and resources), 2014Naga Magick
is an interesting find on many levels.
Denny Sargent
has written an erudite and fascinating glimpse into a world at once mysterious and paradoxical.
Naga Magick
began life as a research project which then blossomed into this book. As a practicing
tantric
and historian, Denny Sargent can speak with authority about these mysterious and powerful serpent entities who have been the object of veneration for millennia in India and other parts of Asia. Serpents as an archetype and reality arouse both fear and awe in humans, they haunt the depths of our subconscious and manifest in many areas of human culture; a relic, perhaps, of a primeval fear from our ancient past.
Read More