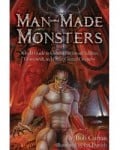 Man-Made Monsters: A Field Guide to Golems, Patchwork Solders, Homunculi, and Other Created Creatures
, by Dr Bob Curran, illustrated by Ian Daniels
New Page Books, 9781601631367, 184 pp. (incl. bibliography and index), 2011
Dr Bob Curran is a history teacher with several books to his name, all dealing with fantastic creatures:
Vampires
,
Zombies
,
Werewolves
, and
Dark Fairies
, among others. His latest is
Man-Made Monsters
, which explores possible origins for created creatures.Curran begins with the quintessential man-made monster of modern times, Mary Shelley's
Frankenstein
. He looks at possible sources which may have inspired Shelley's story, such as the experiments of Giovanni Aldini, Mr Pass, George Foster, Johann Konrad Dippel, and other stories of reanimation which she may have encountered.
Read More