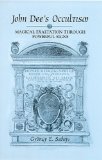 John Dee's Occultism: Magical Exaltation Through Powerful Signs, by Gyorgy Szonyi
State University of New York Press (SUNY), 0791462234, 362 pp. (incl. notes, bibliographies and index), 2004
In John Dee's Occultism Szyoni argues that, contrary to popular sentiment, Dee's interest in occultism was not separate from his scientific investigations, but a logical extension of his philosophical studies.
The book is arranged in three parts, with the Part I provides an overview of Dee scholarship and perspectives on occultism in the Renaissance from Frances Yates to the modern era, contextualizing the various historical interpretations in their periods, concluding with the angle Szyoni is pursuing with the present text – a fascinating study in how the lens of history is focused at various points. Part II looks to Dee's influences, relying heavily on catalogues of Dee's vast library, and inferring other texts not mentioned, but with which he would have likely been familiar, from the Corpus Hermeticum to Paracelsus to various medieval texts. Part III examines Dee's output, the books he wrote, diaries and letters, and the public opinion of the time. Continue reading →