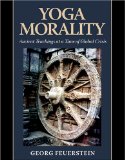 Yoga Morality: Ancient Teachings at a Time of Global Crisis
, by Georg Feuerstein
Hohm Press, 1890772666, 292 pp. (incl. bibliography and index), 2007
"The idea current in some circles that spirituality has nothing to do with morality is an unproductive and even dangerous will-o'-the-wisp. If spirituality is not embodied here and now, it is nothing at all."
In the preface Feuerstein writes that "Yoga is not to be measured by the glamour of its spectacular physical postures or fabulous states of meditation." Instead he notes that yoga is a spiritual tradition "concerned with personal growth and the goal of self-transcendence to the point of perfect inner freedom." As such, this book as little to do with the yoga we've become familiar with, no postures, no exercises. Instead,
Yoga Morality
focuses on the ethical side of things, as Feurerstein sees it.
Read More