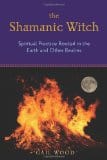 The Shamanic Witch, by Gail Wood
Red Wheel/Weiser, 978-1-57863-430-9, 244 pp. (incl. Glossary, Notes, and Bibliography), 2008
The Shamanic Witch is targeted at introducing practicing witches to neo-Shamanism. As such, the first two thirds of the book introduce and instruct one in beginning a neo-Shamanic practice, and the last third is directed at incorporating Shamanic elements into a pre-existing Witchcraft practice. Even if one is not a witch, the introduction to neo-Shamanism is well written, accessible, and assumes no prior knowledge. It would be unwise to pick up this book with the intention of beginning witchcraft, although a reading list is provided at the end of the book.
The first two chapters introduce the concept and context of Shamanism and provide the reader with some expectations as to what the experience of journeying will be like. Wood includes a number of exercises to prepare the reader: becoming comfortable with their own style of visualization, connecting with drumming and non-ordinary states of consciousness. The third chapter is dedicated to introductory journeys, following what seems to have become standard practice for neo-Shamanism: journeying to the lower world to meet a power animal and then journeying to the upper world to meet a guide or teacher. Wood writing is casual and approachable. She draws directly from her own experiences both as teacher and student, presenting components of her own personal journeys but also alerting the reader that their own may take very different forms. Continue reading →