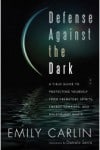 Defense Against the Dark: A Field Guide to Protecting Yourself from Predatory Spirits, Energy Vampires, and Malevolent Magick, by Emily Carlin
New Page Books, 9781601631701, 223. pp, 2011
"When we lie awake, listening to the sounds of the night, we imagine all the things that could be making those strange sounds".
Defense Against the Dark aims to introduce the reader to disruptive and occasionally dangerous entities and educate on how to avoid them, engage them, and if need forcibly remove them. The "dark" tends to be a hit-or-miss area with a lot of books in the occult arena. I find almost everything regarding the dark can be categorized into three camps: the Light, the Illusion, and the Fucked. What I mean is a lot of books say if these dark creatures exist just imagine a bubble of purple light (or whatever is in vogue) and you're completely protected, or that these beings don't and can't exist because God/Universe loves us too much, or lastly they exist and are powerful and if you encounter them you're screwed.
Carlin takes a pleasant middle ground, she admits that these beings exist, these beings can harm you, generally they are rare (especially the more dangerous ones) and you can protect yourself but it isn't always easy. Continue reading →