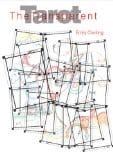 The Transparent Tarot, by Emily Carding
Schiffer Publishing, 9780764330032, 280 pp., 72 cards, 2008
Emily Carding provides a rather extensive book with her tarot deck, I felt I would cover them together. It's nice to see a deck that's published without the dreaded "little white book".
The Transparent Tarot
comes with a book that's nearly three hundred pages long, a book that's appreciated even as a seasoned tarot reader, and would be invaluable if this deck happened to be someone's first.Carding explores the cards one by one in a standard fashion, not only describing her art and interpretation but relating it back to the Rider-Waite-Smith tarot to help people understand where she is coming from and how she is viewing the deck and revisioning it in her creation.
Read More