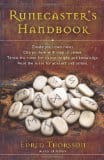 Runecaster's Handbook: the Well of Wyrd, by Edred Thorsson
Red Wheel/Weiser, 9781578631360, 129 pp. (incl. glossary and index), 1988, 1999
Runecaster's Handbook is a concise volume, targeted at providing the reader with just enough information to go about making and casting the rune-lots. As such, it touches briefly on a great many subjects, constantly referencing and referring the curious reader to Thorsson's other works: Futhark: A Handbook of Rune Magic, and Runelore: A Handbook of Esoteric Runology.
Thorsson begins with a chapter on the history of the runes, followed by a chapter on divinatory theory. His approach to history is scholarly rather than the wishful thinking commonly found in Occult or New Age books. He clearly outlines which associations and practices have been documented historically and is explicit in presenting interpretation as interpretation rather than fact. Continue reading →