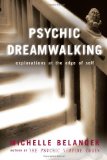 Psychic Dreamwalking: Explorations at the Edge of Self, by Michelle Belanger
Weiser Books, Weiser Books, 205 pp. (incl. appendices, excl. bibliography), 2006
Dreaming is something we all do, whether we consciously remember our dreams our not. Belanger defines dreamwalking as "the art of sending forth a part of the self in order to make contact with others through the medium of dreams." I like her approach to the material; she frequently uses anecdotes to describe her personal experiences and explorations, and then lucidly deconstructs them to illustrate her points.
A wide variety of exercises are offered, from the more basic, such as creating dream haven, a 'gate of dreams' (essentially a 'portal' through which is the dream world), and fashioning an eidolon (one's dream-self), as well as more complicated explorations, such as creating dream landscapes and techniques for lucid dreaming. At the end of each exercise brief checklists aid the reader in determining whether or not one has performed the exercise successfully, offering suggestions for what to look for and tips to correct technique. Continue reading →