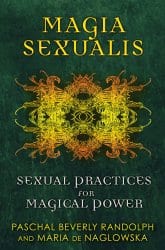 Magia Sexualis: Sexual Practices for Magical Power, by Paschal Beverly Randolph and Maria de Naglowska, translated by Donald Traxler
Inner Traditions, 9781594774188, 174 pp. (incl. notes, bibliography, and index), 2012
Paschal Beverly Randolph's Magia Sexualis has often been called the most influential book about sex magick ever written. It survives through Maria de Naglowska's French translation and adaptation in an edition of 1,007 copies published more than 50 years after Randolph's death.
Pashal Beverly Randolph (1825-1875) was an African American doctor, and the occultist who introduced sex magick to North America. He began his studies with the Hermetic Brotherhood of Luxor, and went on to author several books, founded the Brotherhood of Eulis, became a Rosicrucian, and was a rival of Helena Petrovna Blavatsky. The Brotherhood of Eluis was an initiating group, which sought to examine "occult data in the light of contemporary science." Continue reading →