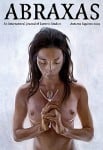 Abraxas, Issue One, Autumn Equinox 2009, edited by Robert Ansell and Christina Oakley Harrington
Fulgur, 128 pp., 2009
Abraxas isn't just "An International Journal of Esoteric Studies", this first issue is also an art book. At 290mm x 232mm it's a large quarto, beautifully bound, and printed on high quality paper, including a handtipped sheet. Richly coloured paintings are beautifully reproduced, along with many lovely illustrations in monochrome. And then there's the text.
This first issue focuses largely on witchcraft, and while I can't detail every essay that appears, I would like to highlight several that I felt stood out in this already exceptional collection.
Stephen Grasso's piece "Skip Witches, Hop Toads", illuminates Continue reading →