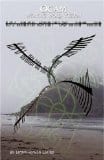 Ogam: Weaving Word Wisdom
, by Erynn Rowan Laurie
Megalithica Books, 9781905713028, 310 pp.
I must admit that I requested this book for review because I have only a passing acquaintance with the subject matter. I have reviewed dozens of books on Wicca/Witchcraft, Paganism, magick, Tarot, etc., all of which I am reasonably well-read on (as well as having personal experience to call upon). Every once in a while I like to find a subject I can approach as a novice reader, so I can see if the hypothetical average reader can make sense of what is being written.
The author makes a statement which should, in my opinion, be branded in the hearts and minds of every "eclectic" Pagan: "That said, these things [local spirits and personal ancestors] must be done with the utmost respect for the local people and traditions, and not stolen, twisted, and used without instruction or permission." Far too many eclectics seem to feel that if it comes from a Pagan culture it is usable by any Pagan, anywhere, even without an understanding of the parent culture. Ms. Laurie recognizes that such behaviour is inappropriate, and for that, I applaud her. Continue reading →