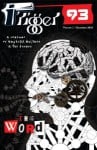 Trigger 93, Volume 1, edited by Ayesha Adamo
Aiwaz Press, 21576149, 2010
The inaugural volume of Trigger 93 focuses on the Word. Editor Ayesha Adamo sets the tone with a meditation on words and their simplification, beginning with the Chinese character for love, which, when simplified, removes the heart. Her concluding essay discusses the mysteries of writing itself, its permanence and the invisible audience.
Contributors tackle this theme of Words in a variety of surprising ways.
Juan Alvaro Echeverri shares his experience among the Indians, Continue reading →