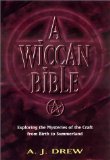 A Wiccan Bible: Exploring the Mysteries of the Craft from Birth to Summerland, by A. J. Drew
New Page Books, 1564146669, 312 pp., 2003
This is the third book I have read by Drew (Wicca Spellcraft for Men and Wicca for Couples being the two previous ones). Even before I opened the covers I was sure that I would be challenged by what was inside. I knew I probably wouldn't agree with all of it (I didn't), but I knew I would find myself doing some serious thinking.
This book was abridged, at the request of editors, and will, it is hoped, eventually be enhanced by the publication of a second book. As such, there is a great deal which has been left out of this volume. I look forward to seeing the publication of that information which as left out because of considerations about the length.
I have found that  Drew is not given to worrying about what is PC, or what others will think of his writings. At the end of his introduction he states "I do not believe being Wiccan is a matter of birth or hereditary lineage, nor do I believe being Wiccan is a matter of being made or of coven initiation." He leaves no doubt about his beliefs and feelings. Such honesty is refreshing. Continue reading →