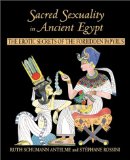 Sacred Sexuality in Ancient Egypt: The Erotic Secrets of the Forbidden Papyri
, Ruth Schumann Antelme & Stephane Rossini
Inner Traditions, 0892818638, 1999, 32 pages includes Appendices, Notes, Glossary, Bibliography, and Index
In all honesty, I had not planned to review this book until I was challenged by a reader of my reviews to tackle it. Egyptology is not one of my strong suits, and I'm not particularly interested in reading about sexuality, which made this book a challenge for me.
The author, Ruth Schumann Antelme, is an Egyptologist, a former professor at the Ecole de Louvre, and an emeritus researcher of the CNRS in France (National Center for Scientific Research), and the illustrator, Stephane Rossini, has illustrated other books on the subject of Egyptology. Some of the illustrations have been "restored", based on other samples.
Some of the images contained within this volume (there are over 150 black-and-white illustrations and 20 color plates) are the ones familiar to the reader on the subject of Egyptian religion. The majority of them, however, are definitely not of the G-rated variety. For those who are used to thinking of the life of Egypt in the sanitized form we learned about in school, there are shocks in store.
As should be obvious to anyone who stops to think about it, a region such as Egypt (which is obviously dependent upon a fertility religion because of the climate) must have included images of fertility and procreation among its religious artwork.
The notes refer to some extremely specialized publication which will be unfamiliar to most readers (as they are to me). This, however, only serves to expand the field of exploration for those interested in continuing their education on this topic.
Where uncertainty exists in regard to the meaning of a given drawing, carving, or other illustration, the author is not hesitant about admitting that uncertainty. Where uncertainty exists about the actual content or form of a given illustration, she points it out.
The appendices include an extremely simplified chronology of ancient Egypt from the Early Dynastic Period (circa 300 B.C.) to the Byzantine domination (circa 400 A.D.); a list of the deities mentioned in the current work; Egyptian place names; some hieroglyphic examples; and a glossary.
I am glad that this book was suggested to me. I wouldn't have ordered it on my own, but it was a pleasure to read. I probably won't be reading a lot more on the subject, but that is simply because of my many more pressing interests (although if I take some time off from reviewing, I may change my mind).