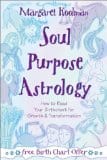 Soul Purpose Astrology: How to Read Your Birth Chart for Growth & Transformation
, by Margaret Koolman
Llewellyn Worldwide, 1998, 2002
Ms. Koolman, in her preface, explains what she hopes to accomplish, and how she plans to do so. She even says that you need not read the introduction, as it "merely" outlines her philosophical approach to astrology. I encourage you to read the preface and the introduction as a means of furthering your understanding of where Ms. Koolman's attitudes and positions come from.
This book is designed for the individual who wants to learn how to interpret charts. As such it does Not deal with the erection of a chart, nor is there any mathematics involved. It deals with relationships. It does mention the relation of the planets to the charkas. And it deals in depth with all of the traditional ideas related to astrology: the planets, the houses, and aspects.
Although my astrological needs are minimal (I have a couple of friends who are, at least, semi-professional astrologers who handle my chart and interpretation needs), this book was easy to understand. It was written in an easy, flowing style that reminded me of my own astrology instructors thirty years ago.
Assuming you already know how to do the calculations, or already have a copy of your natal chart (which you can obtain, for FREE from Llewellyn through an offer in the back of the book) this book will enable you to make sense of your chart. It offers insight and understanding. Last, but not least, at $14.95, it is less expensive than paying for an interpretation by most professional astrologers.
This is not a book for everyone, but for someone who wants to be able to do their own interpretations, it is a valuable resource.