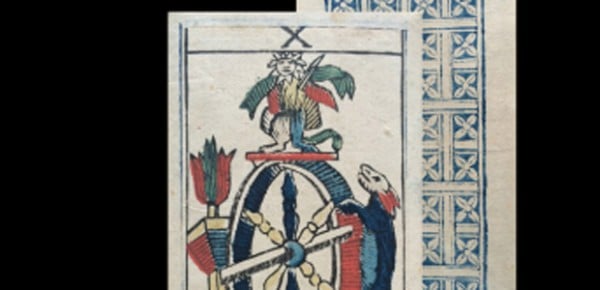 Marseille Tarot: Towards the Art of Reading, by Camelia Elias
EyeCorner Press, 9788792633422, 197 pp. (incl. references), 2015
It was Camelia Elias' tarot blog, Tarotflexions, which first drew me to her work. Her observations there are smart and incisive, and her approach to tarot is quite different from mine, which means I'm always learning something new. Her essay in The Magiculum was one of the strongest in that collection, and I was excited to see a more focused effort on tarot, and this book certainly delivers.
Marseille Tarot focuses on Elias' preferred deck, Carolus Zoya's Tarot de Marseille, a deck created in Turin at the end of the 18th century. The book includes numerous full colour images, and the deck is based on a common Marseille pattern, so while this particular deck is unavailable for purchase, the insights provided here can easily be applied to any Marseille deck, or even other tarot patterns. Continue reading →