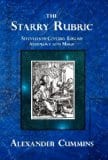 The Starry Rubric: Seventeenth-century English Astrology and Magic, by Alexander Cummins
Hadean Press, 9781907881213, 166 pp., 2012
Alexander Cummins is a new name in the field of historical research, but you will hear more of him in the future, I hope. This review is based on an electronic copy of the work, but having seen the quality, appeal and sheer tactile beauty of Hadean's previous output, buyers of the physical book are in for a treat; the production standards and quality of materials in use are both extremely high. These books are going to be around for centuries, which is pleasing.
Both (some) academics and lay readers might ask "Astrology? A load of old nonsense isn't it?" Maybe, but it still has a power to influence behaviour and beliefs in the 21st century (for example I bet you can tell me your star sign, without even pausing?) when we are all supposed to be rational scientific thinkers. Imagine the added power, then, of a system that was so all-encompassing, some four centuries ago, before the advent of mass literacy, TV and the internet. Wisely this book does not delve deeply into whether the systems in use ever worked, instead this worthy book concentrates more on the history and social function of how believing that it did work affected how people acted, what they did and believed, and what they thought, and said, and wrote. That is definitely fertile ground for the researcher, and this book plants many seeds in that ground. The harvest is exceptionally interesting, with chapters covering both prophetic and propaganda uses of astrology, and the personal, the societal, the political and the practical implications for those who consulted astrologers in those times (and, indeed by implication, those who do so now). Continue reading →