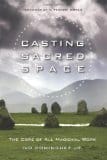 Casting Sacred Space: The Core of All Magickal Work, by Ivo Dominguez Jr.
Weiser Books, 9781578634996, 207 pp., 2012
Everyone in the occult community knows the usual complaint: there are too many 101 books, too many books for beginners. What could be more 101 than an entire book on creating sacred space? Despite the deceptively simple title and seemingly simple topic this book is not 101.
The subtitle of the book refers to making sacred space as the core of all magickal work, and it's true most magickal systems, as most magickal workings involve some sort of delineation of space. But how hard could it be? You make a circle, you toss everything you don't want out, and you begin — how could an entire book be devoted to that? As anyone who has dealt with multiple traditions knows, not all spaces are made equally, or in the same way. Dominguez does a brilliant job explaining a great variety of methods for the creation of sacred space, and the reasons why some methods are more appropriate in some situations than others. The majority of the methods in this book are unique being "re-created, from my past-life memories, visions, and careful thought based on this life's learning." If you're the type of person to be turned off by the mention of past-lives in regards to something like this all I can say if give the exercises a try first, then decide. Continue reading →